Shortlisted: Best National Publication 2022
SCAN: Student Comment and News is the official newspaper of Lancaster University and LUSU. SCAN covers News, Comment, and Sport alongside Arts & Culture, Lifestyle, Music, Screen, and Creative Writing. This year the main objective has been to evolve SCAN. As a student publication, it's important to move with the times and remain relevant. That is exactly what we have done through our content, newspaper design, social media, and outreach.
"SCAN is at the very heart of the Lancaster University community and its coverage reflects the diverse and vibrant life we have here. They can often ask really tough questions of the University, and the Union, as I know myself, and I wouldn't want it any other way. They contribute a massive amount to student life here at Lancaster and they deserve recognition for the fabulous job they do."
– Misbah Ashraf, Chief Executive of Lancaster University Students' Union
What has SCAN achieved this year?

• Print Issues & Digital Issues,
• NEW Creative Writing Section,
• NEW Creative Writing Competitions,
• NEW Travel Column,
• Black History Month Content,
• Multi-Media Platforms,
• Rebranding all SCAN Media,
• Culture shift from The Tab to SCAN,
• NEW Merchandise,
• 400% Increase in Social Media Engagement,
• Renewed Focus on Lancaster-Based News & Comment,
• Society Spotlight Articles,
• Student Media Summit,
• NEW SCAN Socials & Collaborative
• NEW Student Illustrators & Photographers, Events
NEW Merchandise:

This year, SCAN wanted to work on the publication's image, making sure people knew who we were at events and increasing the presence of SCAN on campus. Most societies have their own merchandise to promote themselves so the Editor-in-Chief (Tabi Lambie) designed our own. This included SCAN t-shirts and SCAN tote bags made out of recycled plastic water bottles.
NEW Creative Writing Section & Creative Writing Competitions:
At the start of the year, the Editor-in-Chief (Tabi Lambie) felt that SCAN didn't particularly cater to creative subjects. So, they introduced the Creative Writing Section for those interested in interviews with creative writers, forgotten creative forms, student opportunities in publishing, and most importantly, creative writing competitions. SCAN has now run two creative writing competitions, a Prose and Poetry competition, and a Poetry Showdown. Both competitions were a great success and were well received by students wanting to have their work published in SCAN. When publishing the Creative Writing competition results in both issues this year, they have been accompanied by original artwork drawn by our student illustrators.
Social Media:
Since the start of this year, SCAN's social media has seen tremendous improvements. On Instagram, SCAN's following has risen from 1000 to over 2500 and the average likes has increased from 10 to 109 - at time of writing. That is a 400% increase in engagement. This is primarily due to improvements in graphics as well as the renewed focus on campus news and local stories. SCAN also has a presence on both Twitter and Tiktok.
NEW Newspaper Design:
Since returning to print this year, SCAN has spent a fair few hours improving the newspaper design, especially the front cover. SCAN began the year using an outdated template from over two years ago. This template made SCAN look more like a magazine than a newspaper with the front page completely dominated by photography. The template the Editor-in-Chief (Tabi Lambie) and Associates (Elizabeth Train-Brown & Jonathan Robb) made this year – with Elizabeth Train-Brown taking the Adobe design lead - takes inspiration from a variety of student publications and media outlets. The team altered the logo to act as a banner and changed the layout to open with a news story alongside article highlights and the most notable contributors. This design is far more eye-catching, informative, and student orientated.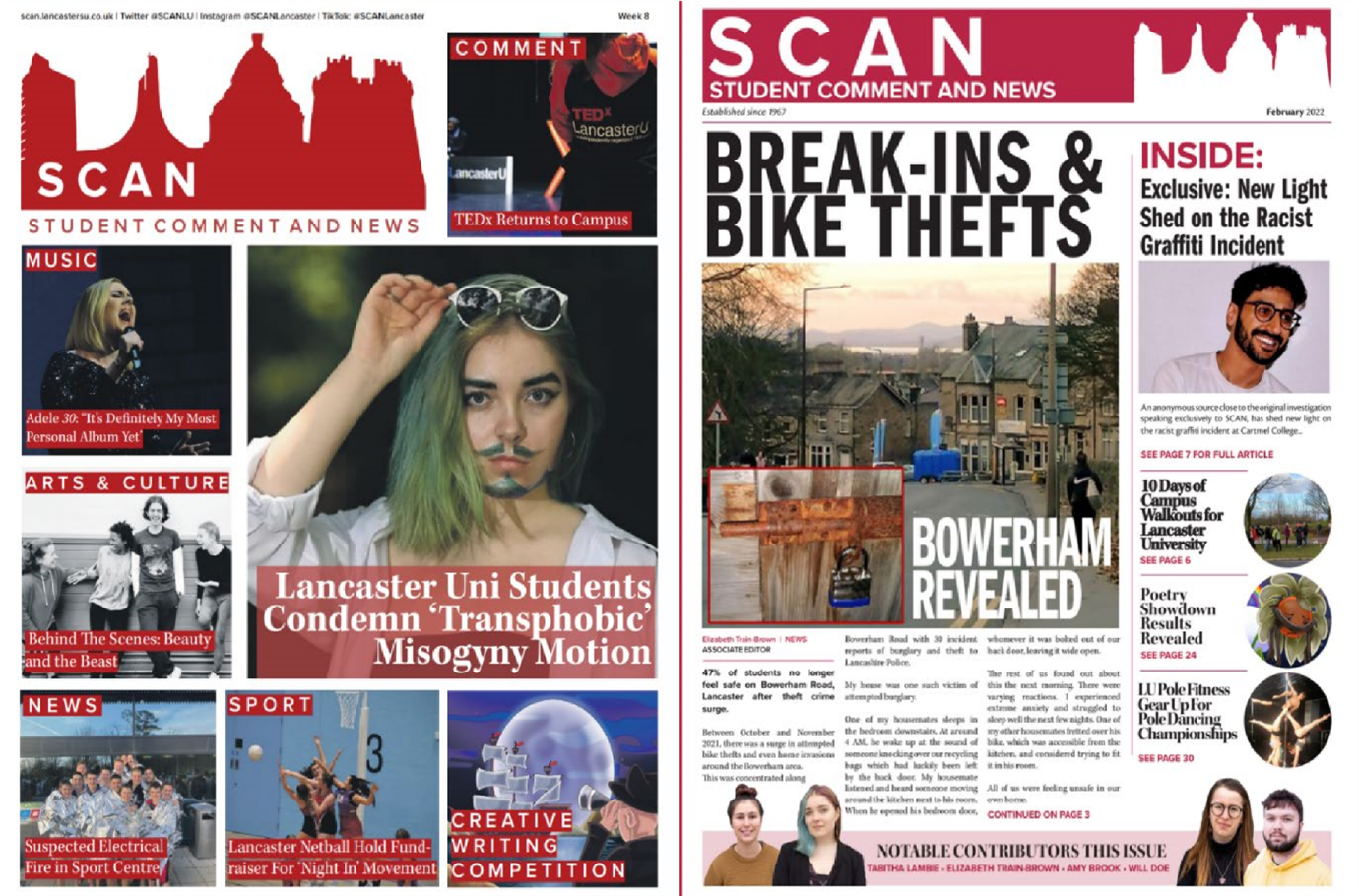 Left: Issue One Front Cover Right: Issue Two Front Cover
SCAN has also looked at additional features, particularly on the contents page which now features 'Uni News at a Glance' alongside the editor's letter and a contents table. As well as the front cover and contents page, SCAN has also updated page formats through the use of column articles and typography. Additionally, formatting shortcuts were created - font and colour swatches - so future editors won't need to go through the same stress of working out where everything is. These swatches will allow them to highlight text, click a button, and see it formatted correctly.
Digital Issue Hyperlink: https://www.yumpu.com/en/document/read/66534695/issue-two-2022
National Student Publication Association Awards 2022, the senior editorial team nominated by SCAN Newspaper.